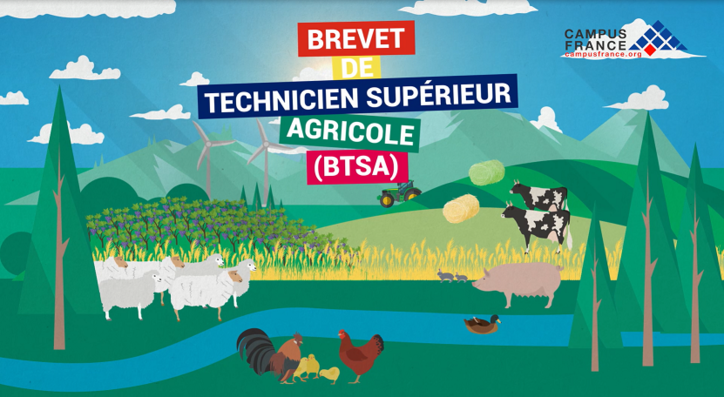 The Advanced Agricultural Technician Certificate, first video of the new series dedicated to fields of study
Campus France just released its first video of the new series dedicated to the fields of study of the French higher education system. Today's video focuses on the BTSA, French acronym for Brevet de Technicien Supérieur Agricole (Advanced Agricultural Technician Certificate) 
The BTSA offers several opportunities to students interested in agriculture, and the animal and plant worlds, and looking for jobs focused on environment and sustainable development. 
The BTS (Technician Certificate) specialised in Agriculture gives access to jobs in the fields of agriculture, farming and food processing. The Certificate also gives access to trainings in water management, nature protection, landscape management, forest management, viticulture, oenology, new technologies and trade in agricultural and processed goods.
The BTSA is a 2-years higher education training accessible after secondary school (with a "baccalauréat") in a private or public "lycée agricole" (agricultural secondary school). The training includes general and professional training for 35 hours per week, practical projects onsite throughout the year and internships in companies during 12 to 16 weeks that can be in France or abroad.
Starting a BTSA means studying in an exceptional setting, close to nature, in an institution on a human scale equipped with agricultural operation or a technological workshop onsite. Classes are small and teachers are close to their students' needs and projects.
In BTSA, students live to the fullest: students live onsite in a boarding school, they participate in associative projects, and to many cultural and sports activities.
Today, 28,000 students study in a BTSA training. And international students are welcome!
Follow the main steps to come study in France
Discover
Publié le : 29/05/2018 à 09:42
Mis à jour le : 11/06/2018 à 10:39