In order to promote French higher education, encourage international student mobility and strengthen cooperation between institutes, Campus France plans and organises events in France and abroad.
Event organisation: a profession in itself
For more than 20 years, Campus France has been organising events in France and abroad to highlight and promote French higher education. The agency's experience enables it to adapt to changes in the education market. To do this, it stages innovative events. In particular, it can:
plan activities adapted to different contexts and objectives;

organise events from A to Z, in France and abroad;

develop content linked to the organisation of an event;

promote the event online and offline
mobilise the members of the France Alumni network everywhere in the world.
The events organised by Campus France have different objectives:
promoting the recruitment of foreign students

and young researchers by French institutes of higher education and research bodies;

encouraging academic cooperation

and partnerships between French and foreign educational institutes;

facilitating the first steps toward a career

for graduates of the French system of higher education;

improving the reception of foreign students

in France;

making international mobility easier

for French students;

raising awareness in France about the system of higher education and research in other countries.
Abroad, Campus France plans its events in close collaboration with the French embassies and the network of the Campus France offices. All of the Campus France Forum member institutes are also associated through the Forum committees.
Image
promotion, recrutement, partenariats
Flagship operations
Flagship operations are major events organised by Campus France. They are most often in the form of a major education fair. Their objective is to strengthen the attractiveness of French research and higher education to students and institutions in another country. A major delegation of institutions takes part and there are workshops and activities to promote French areas of expertise (tourism, cuisine, FLE programmes, etc.).
These events often take place in the wake of a high-profile diplomatic event, such as a presidential or ministerial visit.
Image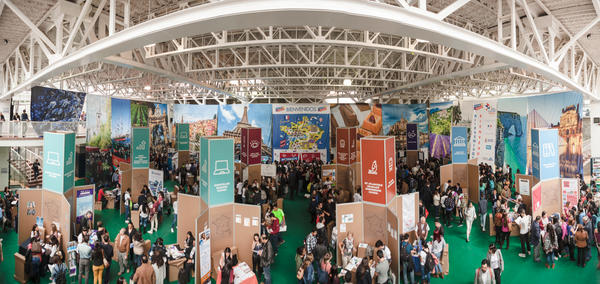 Le salon Destino Francia en Colombie à l'occasion de l'année croisée France-Colombie (février 2017)
Student fairs
Throughout the year, Campus France participates in many student fairs around the world. These activities give rise to inter-university meetings and seminars between French educational institutes and institutes of the organising country.
Image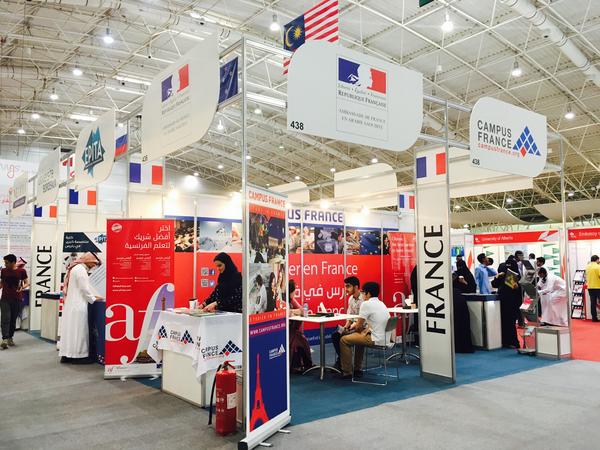 Le salon IECHE en Arabie Saoudite (avril 2017)
Institutional activities
Campus France takes part in international university and professional events organised for an institutional audience (APAIE, FAUBAI, NAFSA, EAIE, etc…) and to this end coordinates the presence of a French pavilion that includes the delegation of French educational institutes.
These activities reinforce academic cooperation, as they assist in the development of new and existing partnerships through participation in workshops and seminars.
Image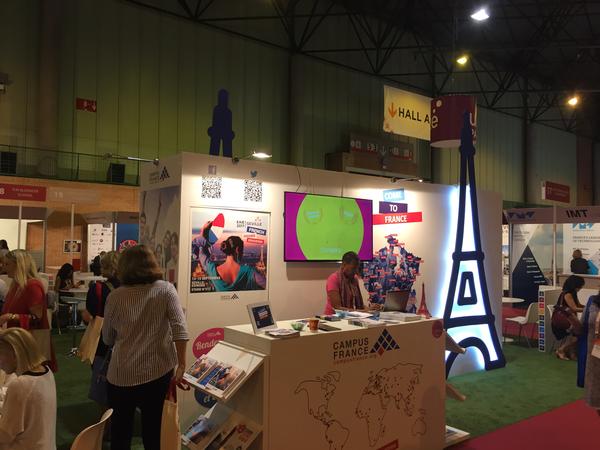 Le salon EAIE à Seville (septembre 2017)
Recruitment missions
Recruitment missions enable institutes to conduct interviews with selected students. These events bring together international admissions and department managers. They are essentially for the Grandes Ecoles and specialised schools.
Image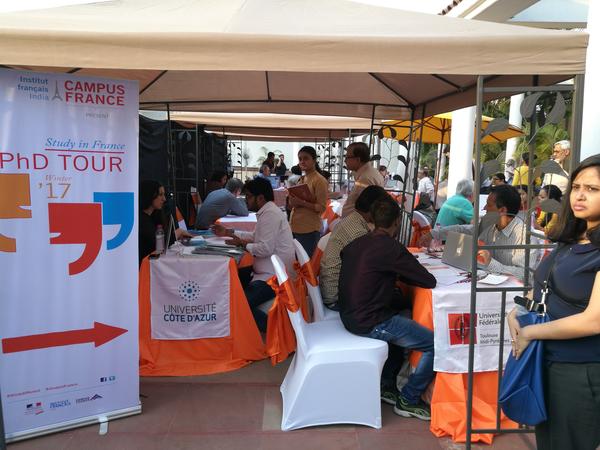 L'Admission Tour en Inde (février 2017)
European fairs
European fairs are organised by Campus France and its European counterparts, such as the German agency DAAD, the Dutch institution NUFFIC and the British Council. These types of events can also be organised when Campus France and a partner, such as Study in Europe, win a call for offers from the European Commission.
Image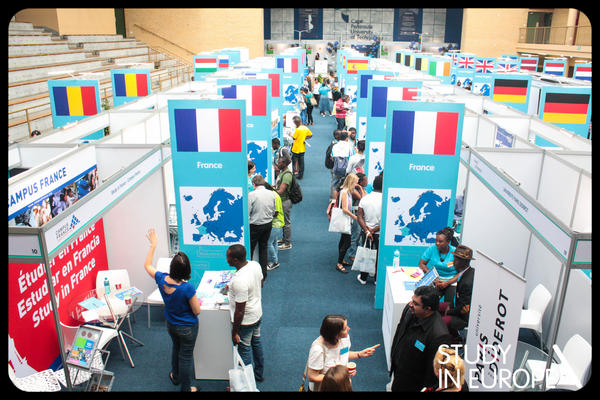 Le salon « Study in Europe » en Afrique du Sud (février 2016)
Promoting French research
Operations to promote research highlight French educational institutes which have Doctoral and Post-Doctoral programmes. These events are aimed at researchers and future researchers, as well as foreign research institutes.
The operations often involve travelling activities. This format lets those involved go to several universities and research institutes in one country in order to increase the number of meetings with applicant students. The trips are also an opportunity to discuss problems of scientific cooperation with local institutions.
The promotional operations are only organised in countries that have financing structures to enable Doctoral and Post-Doctoral mobility.
Themed missions
Themed missions are designed using the seminar model, whether or not they move around, and include institutes, Doctoral schools and research laboratories. They work together to promote their sector by discussing good practice, past experience with mobility and successful receptions.
Image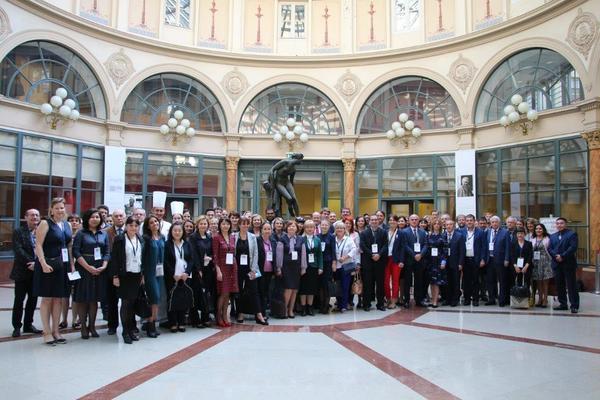 Journée Thématique Patrimoine Gastronomie Tourisme avec les pays d'Europe orientale (Paris, 2016)
Academic-professional trade fairs
Academic-professional trade fairs present French educational institutes to students. They also put students in touch with companies from their country. This is in anticipation of their return and paves the way for the future graduates of French academia to start a career.
Country Days
Country Days (Journées Pays) are for French educational institutes. The morning is devoted to the presentation of a foreign system of higher education: an overview of the system, existing cooperation that can be reproduced elsewhere, specific support structures, etc. In the afternoon, meetings between French educational institutes and institutes from the country in focus are organised.
During these Country Days, representatives of academic institutes in the focus country are welcomed to France to develop bilateral actions and meetings. A country file is often produced for the event.
Image
Journée Ibérique à Séville (septembre 2017)
Breakfast meetings with an Ambassador
Breakfast meetings (Café-croissants) involve spending a morning studying a specific country. They are aimed at representatives of French educational institutes and are organised on the Campus France premises.
The Ambassador of France for the focus country presents an overview of the geopolitical, academic and scientific situation. He or she presents a list of the opportunities and projects to come or to develop involving France and the country in question. A significant amount of time is spent in the morning on discussion with the participants.
Image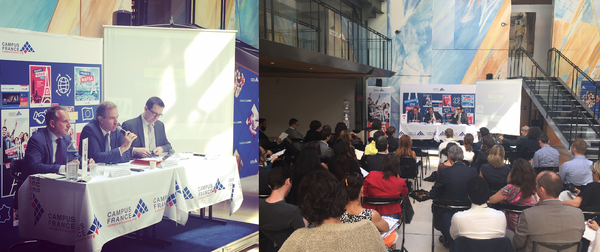 Rencontre avec SEM Christophe Bigot, Ambassadeur de France au Sénégal (Café Croissant Sénégal, Paris, juin 2017)
The "Study in…/ Estudiar en…" fairs
The "Study in…" fairs promote higher education in other countries to French students. Each fair focuses on a different country. These events can be part of existing student fairs or be specially organised by Campus France.
Campus France coordinates these fairs on behalf of private clients, such as of foreign university associations, for example. The agency also looks after the reception of representatives of the institutes from the country concerned and manages the event communication to the French student audience.
Image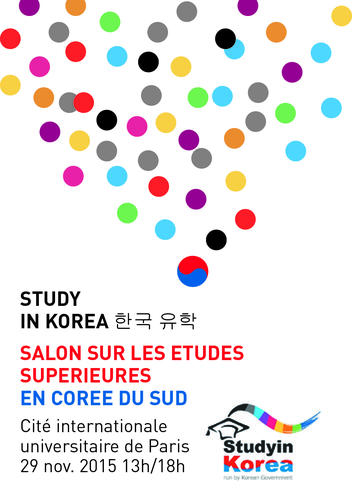 University Cooperation Meetings
Organised every two years, alternating with the Rencontres de la recherche et de l'innovation (Research and Innovation Meetings), the Rencontres de la cooperation universitaire (University Cooperation Meetings) give French educational institutes the chance to meet Campus France office managers and consultants, as well as representatives of universities from around the world. In 2018, the accent was broadly placed on the Francophonie, with many representatives from universities in Francophone countries.
Image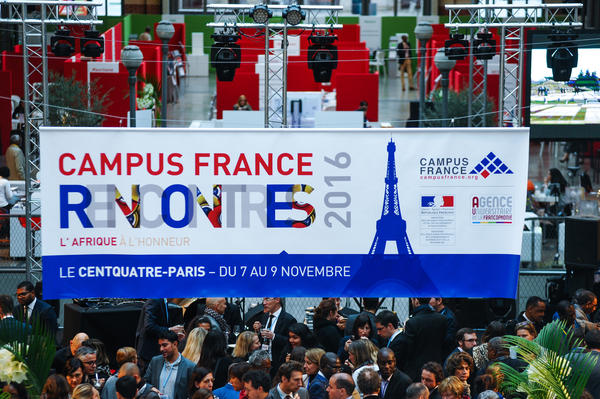 Les Rencontres Campus France 2016 : L'Afrique à l'honneur
Follow the main steps to come study in France
Discover