Lunch, brunch or dinner, at home or out, French or international. Depending on your mood, you can dine out, cook at home or have it delivered. The best way to eat, even in the country of the arts of the table, is still however you want.
Dining out
To celebrate an event or just enjoy the moment, the French enjoy going to restaurants on different occasions. In France, there are a lot of restaurants and you can find one for all of the French and international specialties. Pour célébrer un événement ou simplement pour passer un bon moment, les Français aiment aller au restaurant à différentes occasions. 
Image
Restaurant prices vary considerably and are not always affordable on a student budget. They can start at about ten euros for a complete meal in a local restaurant and go all the way up to several hundred euros in the major gastronomic, Michelin-starred restaurants of the great chefs, like Hélène Darroze, Paul Bocuse and Alain Ducasse. Some advice: always read the menu and check the prices before sitting down. Several websites, like La Fourchette, let you reserve and sometimes even give you a discount on your meal.
One last thing to note: in France, service is always included in the price, so you only leave a tip when you are extremely satisfied with the service (about 5 to 10% of the total amount).
Going to the market
Whether at home or on holiday, there's one tradition the French enjoy respecting: going to the market. If you enjoy cooking, dive into the crowd and roam the laneways of your local market. You'll find fresh fruit and vegetables, prepared dishes, regional specialties, and more.

It's also the ideal place to buy produce from further afield, such as spices and aromatic herbs.
It's an excellent alternative to supermarkets for those seeking to eat well without going broke and for obtaining advice from the sellers.
Image
faire son marché en france
The university restaurants
French students regularly dine at the university restaurants for both budget and practical reasons. They are often located on campus or near town centre universities. Don't hesitate to open the door to one of the 450 university restaurants in France.
For 3.25 euros, you can enjoy a complete meal, with starter, main course and dessert.
To have access and to pay for your meal, just show your student card. Managed by the CROUS, some are even open in the evening and on weekends.
Image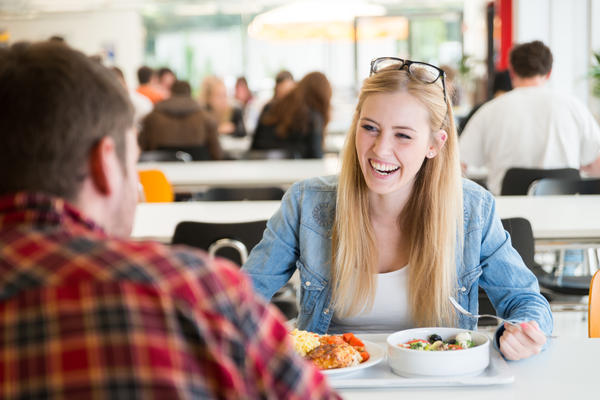 The Food Trucks
To mix things up a bit, try one of the many Food Trucks parked at street corners and university entrances. Burgers, hot dogs, regional specialties and international food - there's something for every taste. They provide an original and tasty solution to your hunger pangs that is often very economical when you need to eat on the go.

The worthy heirs to the pizza trucks and chippies, they are very busy in town and during special events such as festivals
Take away and delivery
If you burn everything you cook or if you haven't got the time to make a proper meal, you can always get a take away from one of the many catering shops or restaurants (especially the pizzerias). You can also try calling in your order.

Home delivery is very widespread in France. A lot of restaurants provide delivery services for their clients.
Campus France helps you
What program are you looking for?
How to finance your studies?
Where to find Campus France close to your place?
Follow the main steps to come study in France
Discover