There are many ways to get around every day in France. Public transit, bicycle or car: you can choose how to get around every day. As a student, you can often subscribe for a reduced rate.
Public transit
In most French cities, public transit generally involves buses and tramways. The networks are usually dense in the town centre, and easy to take. Don't hesitate to ask other students about timetables and stops. Transit companies often have an office on campus where you can sign up for the monthly or yearly pass when the school year starts.
With 14 lines, the Paris Metro is one of the most extensive in the world. It operates until 1 am during the week and until 2 am Fridays and Saturdays. A night bus network then takes over. Outside of Paris, five French cities have metro lines: Marseille, Lille, Lyon, Rennes and Toulouse. There are often automatic tellers at metro stations and tram stops where you can buy tickets or a pass.
Good deals for public transit
Students and/or those under 26 qualify for special fares when subscribing for public transit. To get these fares, you usually have to show your student card or identity card when subscribing.
In Paris and Île-de-France
The Imagine'R card: reserved for students who live in Île-de-France, this special pass gives unlimited travel throughout Île-de-France for less than 350 euros per year.
The ticket jeune: reserved for those under 26 and valid for 24 hours on a Saturday, Sunday or bank holiday, it lets you travel freely within a limited zone for just 4 euros.
For more information about public transit, visit the site of the RATP (Parisian Transit Authority).
Image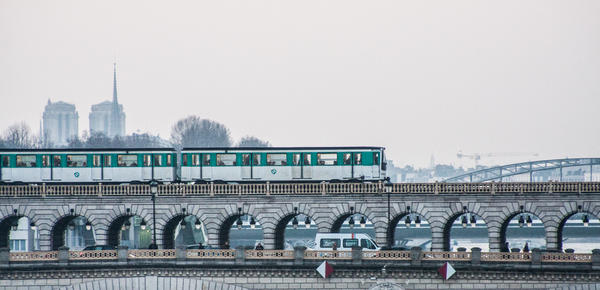 Aerial metro on the bridge of Bercy (Paris)
Self-service bikes
Vélib' in Paris, Vélov' in Lyon and Vélo Bleu in Nice: most big French cities have self-service bicycle rental. An annual subscription – between 15 and 30 euros on average – is the easiest way to use it.
In Paris, Neuilly-sur-Seine and Levallois, the inhabitants can also use a self-service self-service electric scooter. No subscription; the trip is invoiced per minute. No keys, either, nor badge: everything is done via Smartphone.
Taxis
In France, taxis are safe. Don't hesitate to use them to get around.

The fares are strictly regulated and are rather high compared to international averages. Crossing Paris will cost about 30 euros. All taxis must have a meter that measures the price of the trip. If there isn't one, it is a fake taxi: make sure you avoid these.
Image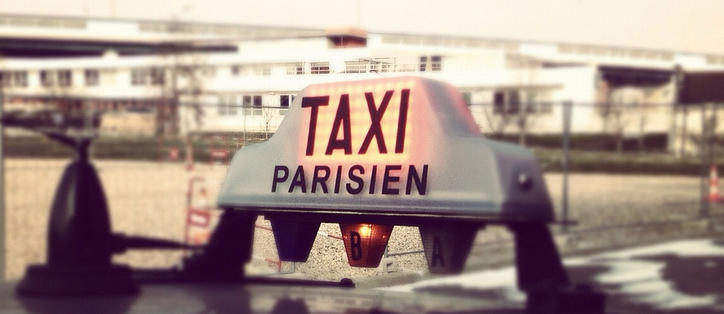 Good ideas when travelling by taxi
 

The shared taxi: developed by the G7 taxi company to deal with competition from VTC (Véhicule de Tourisme avec Chauffeur chauffeured vehicle), this service mixes users going to the same place. The fare for the trip is specified ahead of time and does not change: regardless of the final number of people in the taxi, you pay the stated price.
VTC: a lot of mobile applications enable you to travel around in VTC. They offer lower rates than taxis. On the other hand, applications that enable individuals to offer taxi services are illegal and forbidden in France.
Using a car in France
In some cities, it might be handy to have a car for everyday travel.


Some things to know if you want to go this route: in France, you drive on the right with the steering wheel on the left side of the passenger cabin. Seatbelts are mandatory, and you are not allowed to use a mobile phone while driving. For safety reasons, there must be a reflective safety jacket, a warning triangle and two breathalyser tests in the car. Also, for everyone's safety, remember: if you drink, don't drive.
You can drive in France if you have a European driver's licence or an international driver's licence (if you are not European). You can also use your personal vehicle in France. Nonetheless, if you remain in France for more than six months, you must request an international driver's licence and your vehicle must pass a roadworthiness inspection.
Parking in town can sometimes be complicated. If you are thinking of using a car every day, remember to ask for a parking space with your accommodation. If you need to park in the street, the places reserved for local residents let you do so at lower cost.
 
Good ways for travelling by car when you don't have one
 

Selfservice cars: over 80 French cities have carsharing services via the Citiz network, and  Auto Lib' in Paris. They let you rent a car for a very short period, when you are a subscriber.
 
Follow the main steps to come study in France
Discover