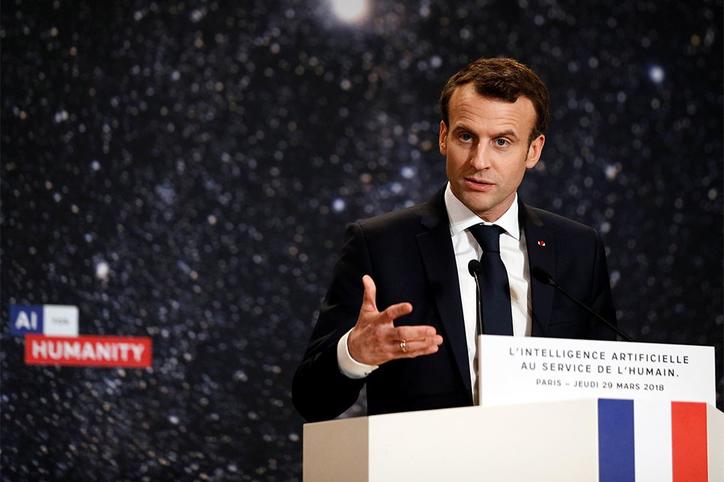 Emmanuel Macron présente son plan pour faire de la France un acteur majeur dans le secteur de l'intelligence artificielle au Sommet "AI for Humanity" (Paris, 30 mars 2018)
@Etienne Laurent/ Pool via Reuters
Artificial intelligence: France will spend €1.5 billion euros
President Emmanuel Macron wants to turn France into a major player of the artificial intelligence industry. The French government will spend €1.5 billion to reach this objective. 
Spending up to €1.5 billion euros: this is the first step announced by Emmanuel Macron in his speech on "artificial intelligence at the service of Humans" at the Collège de France on March 30 to present the strategy designed to turn France into a major player of the artificial intelligence (AI) field. The French government's funding should reach €1.5 billion over five years and €500 million in private funding.
A scheme coordinated by the INRIA
About the place of France in the battle of artificial intelligence, the President reminded that "we have the assets to succeed in artificial intelligence, we have the assets because we already have talents, and we have excellence in training, in computer science and in mathematics".
It's by betting on "human intelligence and the attraction of the best researchers" that Emmanuel Macron announced the implementation of a national program for AI coordinated by the INRIA (National Research Institute for Computer Science and Automatism) in cooperation with additional partner research entities and universities with the objective to double training in AI. And as the president underlines, "We must particularly focus on training". The first challenge of artificial intelligence on a global scale is talent. We are attractive through our excellence because we are cheaper than many others, but the risk is to face a dry pool earlier."
A program of individual chairs
The plan will involve all of the scientific and university community, rely on a network of dedicated institutes present in four/five places in France to form a research hub at the best global level. A program of individual chairs will be added to the strategic means to attract more foreign researchers.
It is thus in this regard that the French president announced the "implementation of a series of call for projects designed as Make our planet great again, which helped select the best global projects and differentially fund the best research in the industry and thus attract the best teachers, teachers-researchers for a period of their career or a year, attract the best research project through these selections to turn France into a place for attractiveness and international competitiveness in the industry".
Beside this aspect, and in line with the report provided by mathematician Cédric Villani, the French president also defined additional general objectives for the development of AI: in addition to the development of training and research, it will be necessary to think about open data, and the ethics and place of AI in society.
Related contents
Follow the main steps to come study in France
Discover
Publié le : 24/04/2018 à 18:33
Mis à jour le : 30/04/2018 à 11:29