Individual mobility
Key action 1 of Erasmus + encourages student and personnel mobility. Since its creation in 1987, the programme has expanded into partner countries outside the European Union. In its 30 years of existence, over 3 million European students have taken advantage of it. With a budget of 14.7 billion Euros for 2014-2020, it is a major part of the Europe 2020 strategy.
Image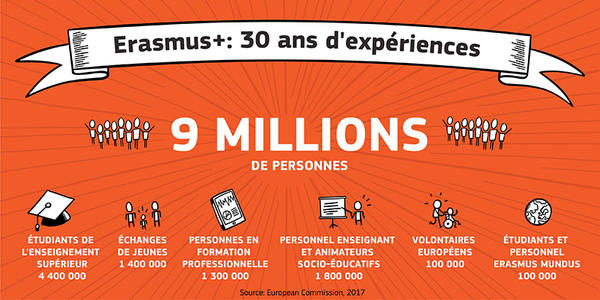 Cooperation in innovation and discussion of good practice
Key action 2 is aimed at making cooperation between different entities (institutes of higher education, professional training organisations, companies, local authorities, etc.) easier, providing support for innovative practices and strengthening cooperation with the partner countries. Key action 2 includes strategic partnerships, knowledge alliances, projects of international cooperation and the strengthening of capabilities with the partner countries.
Image
3 actions clés pour la mobilité, la coopération et les réformes
Higher education policy reform
Key action 3 of Erasmus + supports the reforms and initiatives engaged by the member States of the European Union in favour of student mobility and encourages improved coordination between member States in education, training, youth and sport.
 The Jean Monnet initiative and cooperation in sport are also part of the programme.
The European Commission defines the priorities and objectives for the Erasmus + programme. The EACEA (Education, Audiovisual and Culture Executive Agency) manages the programme at the European level, while the Erasmus +  agency coordinates it in France.
Image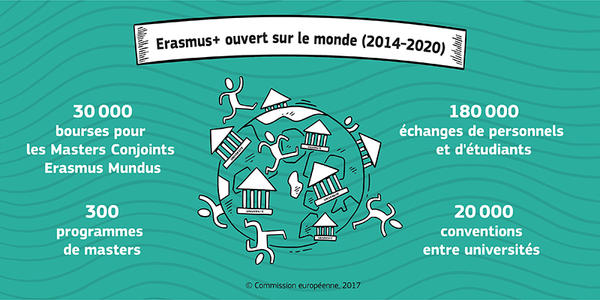 Erasmus + fête ses 30 ans
Follow the main steps to come study in France
Discover